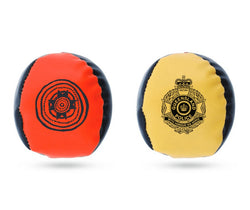 Look To The Stars Hacky Sack
This Queensland Police Service features 'Look to the Stars' Indigenous art by Jenna Lee from Gilimbaa. 
The artwork is based on a collective narrative, inspired and created by a purpose built working group representing a cross-section of the Aboriginal and Torres Strait Islander community and the Queensland Police Service.
"As we look to the stars, the Guiding Constellation lights up the sky, illuminating our way forward through trust, relationships and respect."
Our Look To The Stars hacky sack is great for anyone who loves to stay active and have fun. The hacky sack is also lightweight and portable so you can take it with you wherever you go. Comes in red and yellow.