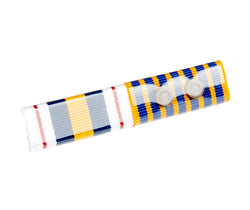 National Police Service Medal and National Medal with 2 Rosettes
The National Police Service Medal (NPSM) is a special service award within the Australian honours system to provide recognition for the unique contribution and significant commitment of those persons who have given ethical and diligent service as a sworn member of an Australian police service.
The National Medal is an Australian award given for long service by operational members of specified eligible organisations. The medal with two Rosette is presented to a person who has served an eligible organisation for at least 35 years in the primary function, and the chief officer of the organisation must assess their service as "diligent".