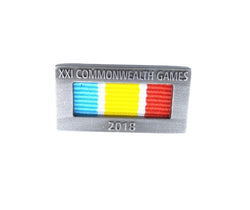 QPS Commonwealth Games Citation
The XXI Commonwealth Games Citation  acknowledges the successful joint security services provided by the Queensland Police Service (QPS), the Public Safety Business Agency (PSBA) and eligible Government departments during the XXI Commonwealth Games.
The citation features three panels of blue, yellow and red, with white striping either side of the central yellow panel. The colours of the citation represent the Gold Coast where the Games were held – surf (blue), sand (yellow) and sun (red).
The ribbon is surrounded by an antique silver metallic frame featuring the wording "XXI COMMONWEALTH GAMES" at the top of the frame and "2018" at the bottom of the frame.